Some of you may remember Kenneth. He was a "Make It Happen" back in Nov 2010. Kenneth likes to work on his own house and is always tinkering about.
This week he got himself into a jam trying to repair some rotten wood at the back of his house. He removed key structural elements. Without realizing what he was doing, he has seriously compromised the structural integrity of the rear of his house. Now the house he and his family have owned since his grandmother bought it years ago, is condemned and will likely end up as an emergency demolition.
Here is a video of Kenneth taken before our Make It Happen in November of 2010.
URL=http://s860.photobucket.com/albums/ab165/sheclown/?action=view&current=MVI_2738.mp4]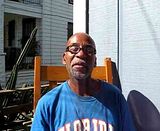 [/URL]
Okay Community this is the deal:
We need to raise $2500 for Kenneth and it has to happen quickly. I just got off the phone from him. It has finally sunk in what he has done to the home he and his family have lived in for decades. We need to temporarily brace the back of his house. We need to pull a permit, get some supplies for temporary bracing. I believe I can talk our beloved architect into helping us, but we need to come together to help him and to keep from losing this house.
Labor will be free and a love gift from Glory Homes, but we need help with the hard costs.
Kenneth is on disability and has promised to pay $150 a month toward the debt. Can we get some help?
This will only stabilize the house. It will not remove the condemnation, but it is a start, a very important one.
It needs to happen within the next 24 hours.